It's no longer enough just to upload an image or an article and hope to engage your audience today, you have to go far beyond the ordinary to build awareness, trust and ultimately grow for your business.
Thankfully – we live in a time when it's more possible than ever to build the kind of crazy and imaginative immersive digital experiences that consumers enjoy. Every social media platform has its own unique content options that you can leverage, from 360 and 3D photos on Facebook, 'moment' collections on Twitter, and custom filters on Instagram. The continuing development of virtual and augmented reality has made both of these exciting technologies more accessible and easy-to-use too.
So let's dive in. What are the different types of immersive content, and how can you use them to your company's advantage?
From Banners to Virtual Tours – some of our favourite immersive experiences
Banner ads
The simple banner ad is often neglected and just left to its own devices. That said, it can be so much more! The ad server, IVO, has some amazing examples of immersive banner ads and our favourite is this expandable Audi ad. The first click allows the viewer to pick a model that they desire, before taking them to a full expansion showing many of the different features of the car, which, when clicked, links viewers to the brand's website.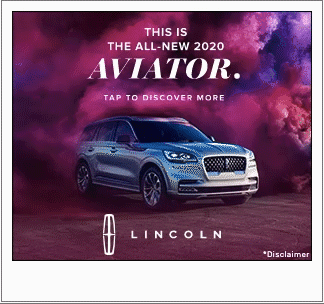 Google's rich media gallery is also a great place to check out exciting banners – and this 2020 Aviator launch banner does a similar job to the Audi ad but in a much smaller space.
You may be thinking that these sophisticated banners are all well and good, but are they any good? Do they improve CTR (click-through rate)? Luckily, from Relevance's experience, we have seen that implementing these immersive banner ads can significantly boost click figures. We have planned and run a client campaign using these types of creative and our click-through rates using these interactive banners was almost double that vs simpler animations or statics. So, next time, why not consider how you can build banners with a bit more excitement (your audience – and your sales team – will thank you!).
Instant Experiences (Facebook)
Some digital experiences may be difficult for you to achieve on your brand's website. Luckily, social media sites such as Facebook can help you create these kinds of exciting visual displays, and thus provide ideal platforms for you to experiment without having to go to the trouble of setting up a bespoke mini-site.
Facebook's Instant Experiences are mobile-optimised 'canvases' which open full-screen, immediately, on any Facebook app. They provide a seamless step between someone's feed and your message and allow you to get creative in your efforts to attract new clientele.
As Facebook demonstrates on its page explaining this creative format, the Jeep Grand Cherokee example is an exciting option that shows two halves of the same model in one place. The use of video content throughout also helps showcase some of its standout features in an enticing way.
One of the novel features of the Instant Experience is its 'tilt to pan' component. We think this is a super fun element of a good Instant Experience, and it's best used on super wide shots or panoramas. The tilt-to-pan only works on Facebook (sorry Instagram!) but as an alternative, you can use a carousel.
This example for 'Burger in the box' for Jack in the Box does the tilt-to-pan really well (Facebook ads account required to view).
360s and Virtual Reality (VR)
With many events cancelled due to the recent COVID-19 crisis, 360s of your products can be an immersive way to connect your audience with properties, cars, yachts, and even jets. While a virtual tour isn't quite the same as being somewhere in person, it can make a real difference in helping someone to imagine a product.
360 videos can be experienced without any VR technology but if you have the right hardware (like an Oculus Rift) this content truly becomes something else. With the right software you can also add 'hotspots' to your virtual tours (similar to the banners we looked at earlier), which can provide some more contextual information, videos about specific features, link you through to other virtual viewpoints, or even send you through to another 360. For example, if you were an automotive brand you could combine all of these features to create a virtual showroom, where someone can view your range and tap through to view specific models to learn more about their key features. We've seen these used extensively in yachting to provide virtual walk-through tours.
You can post 360 content to social media and these tend to engage users very well. We've produced several 360s for a world-class luxury automotive brand and these are some of their most engaged-with and shared content on Facebook.
If you are using a social channel where posting 360s is not possible, such as Instagram, you can still utilise native 360 content by cutting a short video of where you pan around your 360, or uploading several images in a carousel. Electric car brand Polestar does this very well on this interior 360 of the Polestar 2.
This interactive 360 tour of the University of Sydney is an exciting look around the campus and local areas and shows is a really creative execution utilising 360 content: http://tour.sydney.edu.au/
Augmented reality (AR)
Following the idea of using 360 content when your customers cannot come to you, why not bring your products straight to their environment with this next exciting idea.
While 360s allow the customer to immerse themself in your product, AR lets the customer immerse the product in their space to see if it is a good fit for them personally.
Augmented reality has been used amazingly well by Ikea and was really brought to everyone's attention with the wildly successful Pokemon Go game. Ikea and other homeware brands use AR to answer the very common question 'will this work in my home?'. But it's not just interior brands who can do this: Bentley has also implemented this to great effect with their Flying Spur app that allows you to view the car (and even drive it!) from the comfort of your own home (or garage!).
An alternate use case could be if you were an art dealer. Your business could use AR features to show customers how pieces might look in their rooms, or perhaps how framing options could work with certain pieces.
With so much new technology and so many exciting media options available, there is no excuse not to take advantage of them – at least if you want your brand to remain current and to keep wowing new and old customers. Get in touch with Relevance today to learn more about our experience with the immersive, and see what creative solutions we can suggest to take your digital presence to the next level.